Steel Picket Fence
Steel picket fence also called picket fence or welded picket. First designed from United States. There are three main parts to form the steel picket fence. First, vertical steel picket with a punched spike on the top. Second, normally use square tube to be the horizontal rail of picket fence. Third part is the post, need a square tube to form the post of steel picket fence, the specs of the post must stronger than the horizontal rail. The production ability of steel picket fence is small because there is not any automatic machine for welding the steel picket on the horizontal rail. All the production process is man-made and that is why the price of steel picket fence is higher than normal fence. Vertical steel picket is welded on the rail to form a panel, then use C shape clamp to connect the panel to the post. Steel picket fence is wildly used in parking area, residential zone and other area in the city. Comparing with other kind of metal fencing, steel picket fence looks more gentle. United State and Australia are the main market of steel picket fence. If you need more information or need a steel picket fence supplier to help you start business in your local market, please contact our sales department.
Steel Picket Fence Specifications
A HEIGHT: 1200mm / 1400mm / 1600mm / 1800mm / 2000mm / 2200mm
B WIDTH: 2000mm / 2500mm / 3000mm
C PICKET SIZE: 20mm*20mm / 25mm*25mm / 30mm*30mm
D HORIZONTAL RAIL: 40mm*40mm / 50mm*50mm / 60mm*60mm
E POST SIZE: 50mm*50mm / 60mm*60mm / 75mm*75mm(Square Post)
F CLAMP: Metal Clamp
G POST CAP: Metal Cap / Anti-UV PP Plastic Cap
S SURFACE: Hot Dipped Galvanized (505g/m²)
Electric Galvanized + Polyester Powder Coated (All colors in Ral)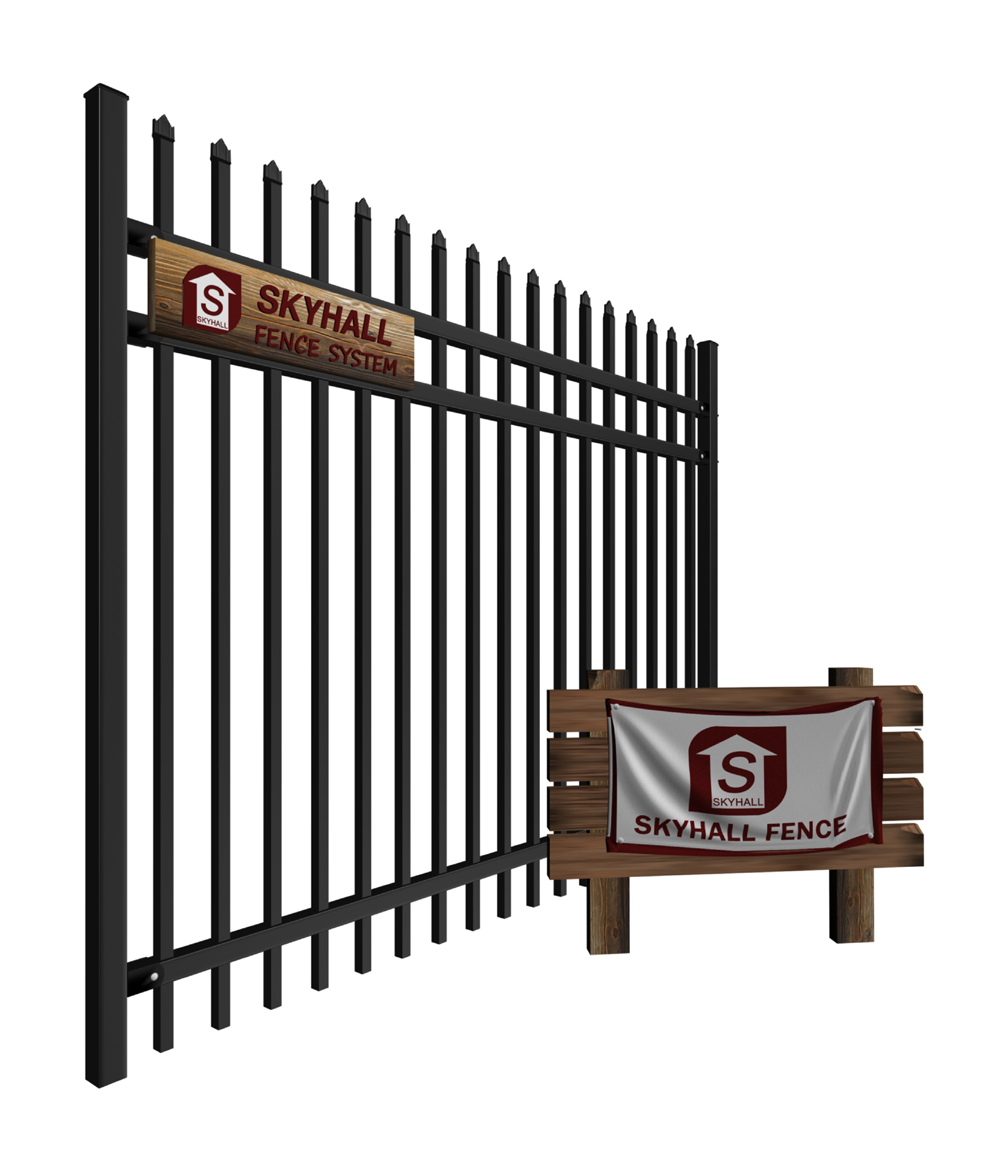 NOTES:
Height: the height of the steel picket fence.
Width: the distance between two posts, measure from center to center.
Picket Size: the size of the vertical picket of the steel picket fence, normally the size is 20mm*20mm / 25mm*25mm / 30mm*30mm.
Horizontal Rail: the rain to connect the vertical picket with the post by clamps.
Metal Clamp: a metal clamp with a "C" shape.
Hot Dipped Galvanized: dip the fence in to a container that is full of liquid zinc, to prevent the steel picket fence from getting rusty.
Electric Galvanized + Polyester Powder Coated: electric galvanized (zinc coating 8~12g) as a pre – surface treatment inside, polyester powder layer outside, to prevent the steel picket fence from getting rusty.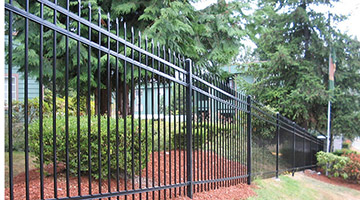 Tube Material
All the materials for steel picket fence are different size of square tubes, no matter the steel picket, horizontal rail or the post. This is the only one type of fence made from square tubes without any wire material. The tube material make the steel picket fence looks more three-dimensional.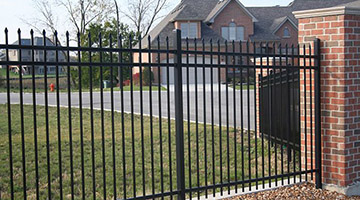 Decorative Function
The steel picket fence looks more beautiful than other kind of fencing. If we say the concertina razor wire and 358 mesh fence looks deterrent force, the steel picket fence will be much gentle looks, and that's why people set the steel picket fence in the city a lot.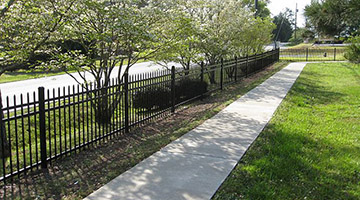 Easy Installation
Installing steel picket fence is a kind of easy stuff just like kids install their toys. Connecting the panel to the post by metal clamps. That's the only process for installation of steel picket fence. If do not want to disassemble the fence off, Skyhall fence can provide a anti-theft bolt & nut system to suit for the fence.
Randomly Selected Projects
2014 – 90,000pcs – United States Exported 90,000pcs pickets material to United States to another fencing company, they finished the steel picket fence production local.
2012 – 1.6km – Australia Exported 1.6km steel picket fence to Australia via a trading company in Hongkong.
2009 – 1.2km – New Zealand Exported 1.2km powder coated steel picket fence to Zealand for fencing a building and its parking area.
2013 – 4,100pcs – United States Exported 4,100pcs steel picket fence panel to United States for supplying another fence company in Huston.
2010 – 3.1km – Australia Exported 3.1km hot dipped galvanized steel picket fence to Australia to fencing a industrial zone.
We are a trading company based in Hongkong. We had big sales of steel picket fence in Australia market and New Zealand market. Skyhall always quote us very quickly with competitive price. Moreover, they helped us to do the shipping document with a very professional staff. We trust them and they indeed keep our profit even our clients trying to contact with them.
– Bridget
We have been working with Skyhall Fence for quite a long time and they always give us the best service. Once we had a urgent order that requires the goods to be delivered within 20 days, the staff at Skyhall Fence made up a plan producing 24 hours a day and also borrowing other factory's production line and finally made it on time. Many thanks to the Skyhall Team.
– Ben
I'm Haddon from Australia. We import the steel picket fence from Skyhall Fence, and wholesale the picket fences to our customers who use the steel picket fence for garden fencing, park fencing, residential fencing and other places fencing. The steel picket fence we import from Skyhall Fence is sold very well.
– Haddon
To work with Skyhall Fence is a quite excellence experience. They will solve all the problems for you. And I have to say if you want to buy fences for your house or something, I recommended Skyhall Fence to you. Will definitely ask cooperation again!
– Koral
We have the cooperation with a construction company and they select this kind of fence for their villa boundary wall. And then we found Skyhall to design it for our project. They gave us professional drawings and 3D effect picture. We like it very much and our project is still processing. Great cooperate with them.
– Sam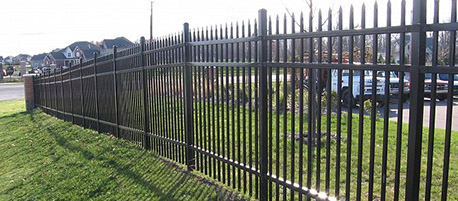 Easy Installation
The steel picket fence is very easy to install, the picket is welded together to form the picket fencing panel. You just need to connect the post and the picket fence panel together. When you got your picket fencing, you just put the panel between the posts and fix it.
Strong
The steel picket fence panels are welded by the steel tubes and is not as same as the wire fencing. It is much stronger. The picket fencing is not easy to cut and climb. When you want a strong fence, the steel picket fencing must be your priority choice.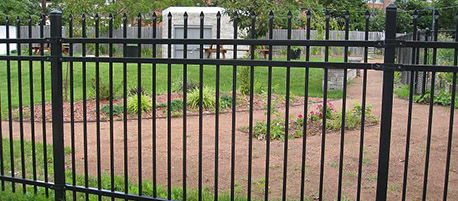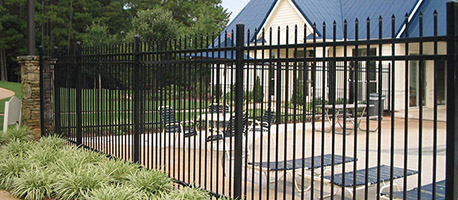 Good looking
The steel picket fences are applied in the villa areas. Because its has a good looking and can decorate the community well. So if you want a strong fence and also want it has a little decorative role, the steel picket fencing must be the good one to choose.
Low loading capacity
Because the picket fence panel are welded by the tubes together, when it is put into the container, it may occupy lots of space. So when you decided to buy the steel picket fence, you can ask our experts how much fences can be loaded in the container with the exact specification you want.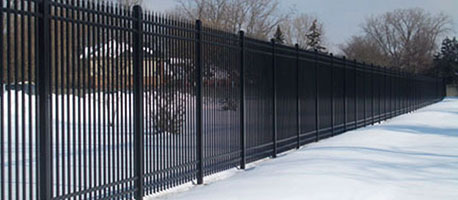 Installation of the steel picket fence from Skyhall Fence
Steel picket fence is a kind of heavy weight fence products in Skyhall fence series. Normally we need at least two staffs during standing up the fence panel. The installation process of steel picket fence is also not to complex. We can follow the normal process of metal fence installation. We will give an example of 2.4 linear meter width steel picket fence installation process. 1.Measure the width on the ground for 2.4 linear meter, then dig holes on the ground. If need to speed up, we can dig all holes together when we calculate the distant correctly. If the ground is concrete, please do not dig holes for post. 2.Setting up the post into the holes and fill the earth into the holes to make sure the post will not move even we move it. The post must be installed very stable, or it won't be able to afford the heavy weight of the picket fence panel. If the ground is concrete and the post comes with base flange plate, please set up the anchor bolts into the concrete ground. 3.Standing up the panel close to the post. Usually we need two staffs to stand the steel picket fence up because of the heavy weight. Need to make sure the spacing from post to steel picket fence panel is correct for setting up the clamps. 4.Connecting the post and panel with metal clamps, normally there need two clamps to connect the two horizontal rials with the post. 5. Install the rain cap on the top of the post. If the height is difficult to reach the top, we can set up the post cap first before setting up the post.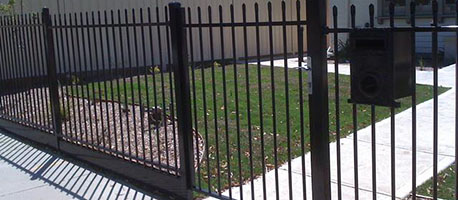 Application Scenarios
Steel picket fence is wildly used in different areas in the city because of the comparing higher price and lower security function. Normally the steel picket fence is used for fencing parking area, residential area, office buildings, factories, gardens and city parks. Because of its gentle looking, it is more easier to be accepted by the people living in city. It won't have a lot of deterrent force feeling like concertina razor wire and barbed wire fencing. Moreover, the steel picket fence will not hurt the kids when they play around. If change it the concertina razor, maybe the children will hurt their fingers and not safe like near by steel picket fence.
Packing of Steel Picket Fence from skyhall fence
Steel picket fence packing process can be followed by Skyhall standard packing. First to loaded the panel on the steel pallets one by one. To load the rail of the second panel on the picket of the first panel, then the picket of third panel on the the rail of second panel. This can increase the loading capacity of steel picket fence panel a lot. The we need to tight the pallets with steel belt. Covering the plastic film outside in the end to avoid water go through. Regarding the post packing process, almost same as the panel. Because some of the folklift in destination limited weight is 2.5 tons, normally we will not load a pallet with the weight over 2.5 tons. Sometimes the steel picket fence panel and post will be loaded in bulk because of the hot dipped galvanized surface treatment is strong enough to protect itself, but this only be suggested by hot dipped galvanized finishing or extra large size panel can not be laying down.(1)In Bulk: loading the steel picket fence panel, post in bulk. accessories in carton box. (only be suggested when loading the hot dipped galvanized steel picket fence or special extra large size can not loaded on pallets) (1)Plastic Film + Steel Pallet: wrapped the steel picket fence panel and post with plastic film then loaded on steel pallet. (suggested)
Get your FREE QUOTE for Steel Picket Fence NOW!
1.Want to know more about steel picket fence?
Steel Picket Fence is a new fencing system which is very popular in western countries and now you can find it almost everywhere. You have a order of this fencing system but you're quite new to this, don't worry. Tell our fencing expert what do you want to know and what information that you need. Our fencing experts will help you with all that within 24 hours. That's a guarantee.
2.Need a thorough QUOTE?
All right! That's exactly what we are offering you. FREE QUOTE without any obligation of any sorts. You can just count on us. We are very serious about this. In order to give you a detailed quotation, first we need to know the specification you need, if you can provide that information as well as the order quantity, then go ahead and fill out that form on the right column and soon one of our representatives will contact you. Or if you prefer, you can find our contact information above. You can call us directly or you can send us emails or you can talk with us on Skype. Come on and do it!
Latest Posts About Steel Picket Fence