Euro Fence
Euro Fence, also called Holland fence in China. Euro fence is a kind of most common type of economic fencing in Chinese market. Because its price is competitive, normally used for Highway or boundary project with big quantity. There are two main parts to form the euro fence. First part is the fence panel roll. The roll packing is different from other fence because of its wire thickness is thinner than other kind of welded fence. It's soft enough for rolling up. Second part is the swallow tail post system. The swallow tail post is a special type of post designed for euro fence, connecting the panel with "U" shape clips.
Several years ago, the production process of euro fence is separated by several steps until the automatic production machine came out in 2004. Right now the production process and ability was improved to higher level. Welding process, bending process, PVC coated process and rolling process of the euro fence can be done in only one machine. The production line of euro fence comes to be very short and easy.
Euro fence is wildly used in Chinese market such as highway, boundary, railway protection, etc. With the benefit of economic, high production ability and easy packing. It will be accepted by other market out of China soon.
Euro Fence Specifications
A HEIGHT: 1200mm / 1400mm / 1600mm / 1800mm / 2000mm / 2200mm
B WIDTH: 2500mm / 3000mm
C WIRE THICKNESS: 2.0mm / 2.5mm / 3.0mm / 3.5mm
D MESH SIZE: 50mm*50mm / 100mm*50mm
E CLAMP: Metal U-clamp
F POST SIZE: swallow tail post (48mm / 60mm)
G RAIN CAP: Anti-UV PP Rain Cap
S SURFACE: Electric Galvanized + PVC Coated (All colors in Ral)
NOTES:
Height: the height of the euro fence panel.
Width: the distance between two swallow tail posts, measure from center to center.
Wire Thickness: diameter of the euro fence wire.
Swallow Tail Post: a special type of post looks like swallow tail, normally for euro fence post.
Metal U-Clamp: a "U" shape clamp for setting the panel up to the swallow tail post.
Pre – Hot Dipped Galvanized: the wire surface treatment is galvanized before welding.
Electric Galvanized + PVC Coated: galvanized the wire material first, then do the PVC dipped coating after welding the euro fence panel.
Economic Products
Euro fence is a kind of very economic products. The material cost and weight of it is much lower than other kind of fences. Also the automatic production line brings a high production ability for euro fence. If the project is regarding about highway, railway or country boundary wall, etc for huge quantity, euro fence may be a good choice.
Weave Horizontal Wire
The horizontal wire of euro fence is bending to the shape of weave. This bending can make the euro fence panel to be more stronger, also make it more gentle look. Euro fence is the only one type of fence panel with a bending to weave shape in Skyhall fence series.
Swallow Tail Post
Swallow tail post is another very important feature for euro fence. It named swallow tail because of the shape of the post looks like a tail of swallow. This type of post only designed for euro fence, but some engineers prefer to use swallow tail post to be the post for other kind of fences.
Randomly Selected Projects
2014 -34.5km – Poland
Exported 34.5km green color euro fence to Poland for a government fencing project.
2012 – 17.5km – Ghana
Exported 17.5km euro fence to Ghana for highway project from Accra to Kumasi.
2009 – 44.0km – China
Supplied 44.0km euro fence to a government project for highway, cooperated with another company to finish construction.
2013 – 110.9km – China
Supplied 110.9km PVC coated euro fencing in China Mainland for highway project in inner Menggu.
2009 – 51.1km – China
Supplied 51.1km euro fence to a government project for railway.
We had a bid for a government project which is regarding the highway road side fence in China. Skyhall quoted the euro fence to us and we had several suppliers' quotation. The quote from Skyhall is the cheapest in them and they helped me to provide the sample during bidding. After the deal they also sent an engineer to the construction site to help the inspection with the staff from government. Hope to cooperate with Skyhall next time.
– Ren Xiaoshan
We ordered a 20ft container of the euro fence product from Skyhall Fence several months ago. We tried a few suppliers before but their product quality really not meeting my requirements. Fortunately Skyhall Fence changed this situation. They offered us with reasonable price as well as high quality. We are lucky to have supplier like Skyhall Fence.
– Jelinski
I have to say that skyhall fence is really a professional euro fence manufacturer in china. I visited them, they have the advance fence making machine, skillful worker, excellent sales team, and they provide us the superior quality products, good service, their delivery time and payment condition are also good. Skyhall Fence is really a good partner.
– Maarten
We are a big trading company in Netherlands, two years ago, we purchased the euro fence from Skyhall Fence. We are very satisfy with the euro fence and service from Skyhall Fence. Skyhall is a young company in the metal fence regard, they have the passion to try their best cooperating with us. So we keep the long term business relationship and friendship.
– Patrick
To choose the Euro fence for our big big planting region, so we need the cheap one, because the our planting zone is quite big and we don't want to spend too much money for it. And they recommended this type to us. It is match our requirement very well and now we have surrounded our planting zone with Skyhall Euro Fence. Definitely ask cooperation again.
– Tolly
Economical
One of the biggest advantage of the Euro Fence is economical, when you have to buy a big quantity of fence products but with a limited budget, the Euro Fence must be the first choice. The Euro Fence is widely used in the boundary with big quantity.
Nice looking
The Euro Fence is welded with wave horizontal wire. So from its appearance, it is quite good looking and beautiful. To choose the Euro Fence, it can have a little decorative role for your usage. When you surround your farm or boundary with Euro fence, it will be also very beautiful in appearance.
Easy installation
The installation of the Euro fence is very easy. You can install the post first, and then you unfold the Euro fence roll. And using the clips and tools to fix the fence roll with the post. And the Euro fence is done. Is it quite easy? So you needn't worry about the installation of it any more.
Easy to cut
Because of the mesh size of the Euro Fence, it may easy to be cut if someone want to break it. But if you want to improve the issue, you can put some electric energizer or make the mesh smaller.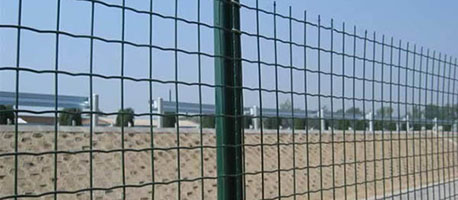 Installation of the Euro Fence from Skyhall Fence
Euro fence installation is not very complex. It's not like other kind of fence need to be installed set by set. Setting up the euro fence will be several sets installed together.
1.Measure the length on the ground, normally is 15m or 30m same length as the euro fence roll. We make 15m length of euro fence as an example. Dig holes every 3 linear meter. Need to make sure the line of these holes are straight, we can not change the direction after setting up the swallow tail post.
2.Setting up the swallow tail post into the holes in every 3 linear meters and fill the earth into the edge of the holes. Need to make sure the swallow post is strong enough and won't move even we try to move it.
3.Open the euro fence roll to a 15 linear meter straight panel and stand it up.
4.After standing the euro fence panel up to the post, set up the U clips with a special tool which Skyhall will provide with the fence. Make sure the U clips are locked the vertical wire of the fence panel on to the swallow tail post. The distance of the U clips are 200mm ~ 300mm according to different height.
5.Install the post rain cap on the top of the post in the end. If the height of euro fence is difficult to touch the post top, please install the post cap first before we set up the post.
If calculating the distance of post carefully, it is possible to dig all holes first, then setting up all euro fence panels next. This will increase the installation speed a lot. If the ground is concrete instead of earth, we need to use the swallow tail post with flange plate, installing the post with anchor bolts in to the ground.
Application Scenarios
Euro fence normally used in highway road side fence or railway road side fence because of its economic feature. It won't have too much high security function but it is a very good choice for normal fencing. The average cost of euro fence is the most economic one in Skyhall fence series if we need to cover a same length of area. Euro fence owns very big market in China. You can see almost all the fences on the two side of highway in China are euro fence with swallow tail post by PVC coated dark green. Euro fence will be used in more and more area by the advantage of economic.
Packing of Euro Fence from skyhall fence
The packing of euro fence is easy not very complex. For the euro fence panel, we normally rolling the fence in to a roll, then wrapped the plastic film outside of the euro fence roll. Afer the plastic film wrapped, put the fence roll into a small packing oven to heat with a warm temperature. The plastic film outside will become smaller and tight, to cover the euro fence roll avoid of water coming through. For the swallow tail post, usually pack them on a steel pallets, tight with steel belt and set up the corner cover in four corner of the pallets. Carton board covered is also available. Wrapped with plastic film outside of the pallets in the end. Another important issue is the weight of the whole pallets usually need to be controlled in 2.5 tons, because some of the folk lift in the destination could not lift the weight over 2.5tons. Regarding the swallow tail post cap and other accessories of euro fence, we normally load them in to a carton box, then tape with Skyhall logo. We also accept without logo tape if requested.
(1)In Bulk: all euro fence roll and swallow tail post and fittings loaded in bulk. This will save some cost but will crash the surface (do not suggest)
(2)Plastic Film + Steel Pallet: plastic film wrapped then loaded on steel pallets, accessories loaded in carton box, all stuffs be protected very well. (suggested)
Get your FREE QUOTE TODAY!
1.Want more information on the Euro Fence System?
Euro Fence is a unique fencing system. Many people know little about this kind of fencing. We have a team that is very eager to provide people with all the information they need as well as free assistance. We can give the detailed information on the specification of the euro fence system and the technical information on the euro fence system. If you have more special requirement we can also give free help.
2.Need a detailed quotation in urgent?
No worries! We work on a 24/7 time basis. After we received your inquiry for euro fence system we'll respond very quickly so you can get your quotation soonest. Also we provide no obligation FREE QUOTES to our potential customers, it's our duties so please go ahead and tell us about your project and we'll help you with our best work.
3.Need technical support?
We are happy to help you with technical problems of euro fence. If you got one, please let us know and our fencing expert will help you with this technical problem and give you the best solution and advise for you. We got you covered!
Latest Posts About Euro Fence