Ray Han
Sales Manager
As sales manager of Skyhall Fence, Ray Han is responsible for the sales performance of the exporting sales department.
He has more than 12 years of experience in China metal fencing industry, accomplishing many world-class fencing projects and record-breaking sales achievement with his expertise and management skills.
He has a Bachelor of Business Administration degree from Brock University, Canada.  He likes reading book about business management and psychology. He's also into extreme sports in his spare time.
Tony Ma
QC Manager
Tony is a seasoned quality inspector and he is in charge of supervising and coordinating the quality inspecting process at Skyhall Fence.
He has nearly 15 years of experience in metal fencing industry in China. With his rich experience and expertise, he is responsible for and ensures the products quality inspection. He has a bachelor's degree in Mechanical Engineering.
He likes fishing and climbing at his spare time.
Lacey Zhang

Design Manager
Lacey is a one of those folks in design community that make VI design look attractive.
She has experience in using various design softwares as well as freehand paintings.
She has a Bachelor of Landscape Architect degree from Universiti Techonologi of Malaysia. Her hobbies are very broad. Such as travlling, singing, dancing, fitness, etc. She thinks that "Kindness is the golden chain by which society is bound together", so she treats people with kindness and thinks helping others is a duty.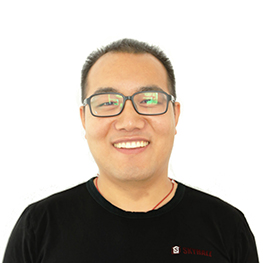 Alex Fan
Sales Executive
Alex is a enthusiast of the metal fencing products he sells. His enthusiasm and dedication to his career help countless customer with their project.
He has 4 years of experience in helping pushing China metal fencing products to the world market. He has a bachelor's degree in Economics and has former working experience in community services.
He is a bike enthusiast and also like reading comic books.
Eric Zhao
Sales Executive
Eric shows his rich experience in E-commerce and internet marketing from his daily work as Sales Executive. With his expertise in these areas, exporting sales becomes even higher through E-marketing.
He has over 3 years of experience in the area of metal fencing products. Before that, he was in charge of a local O2O integration program, helping local small business boom with online opportunities. He holds a bachelor's degree in management.
He likes reading fictions books and doing some programming using his laptop.
Sophie Wang
Sales Executive
Sophie using her rich experience in system management helps the team work more efficiently and comfortably. She makes the most use of our B2B system and accomplishes many breakthroughs at the platform.
She is a experienced sales in the industry and has a 6 years experience helping customers with their projects from all over the world. She has a master's degree in English Translation.
She is a small animal enthusiast and he adore dogs.
Jack Chen
Sales Executive
Jack began his career as sales executive since 5 years ago and has became an professional in metal fencing products. He is also known for his passionate attitude towards customers.
With his experience and knowledge, many difficult problem were solved for large projects. He holds a bachelor's degree in English Interpretation.
He likes playing table tennis when he has free time.
Kay Ding

Sales Executive
Kay starts out as a sales of metal fence products during her university. Her long-time work experience give her ability to quickly understand customer intent, and targeted to solve customers' requirement.
With her rich experience and high enthusiasm in work, she can easily provide pointed solutions to satisfy different customers' demand. And most of her customers are satisfied with her provided pointed solution. She also has a bachelor's degree in Chemical.
She likes finding new and fantastic things in her like, which will make her life colorful.
David Gao

Sales Executive
As a guy who was born in the wire mesh home town Anping China, David has a rich experience in the metal fence industry.
He has more than three years of experience in the field of international trade. He has great achievement in the innovation for exploiting the international market of metal fence products. Most him clients are very satisfied with his service. He has a bachelor's degree in English Literature.
He likes reading book about economics and health science. He is also a martial art enthusiast and he adore Bruce Lee.